Introduction
If you're a reader of my blog, there's a good chance you use software plugin effects. Digital effects are an integral part of making music in this decade and decades to come, and they're likely your only choice if you don't have access to a million dollar studio and the large effect racks they often house.
This is the first in a series of posts I'll release quarterly. In each, I'll pick out three plugins I'm currently using and currently loving. Maybe they're new toys for me, or maybe they're old-hat plugins that I rely on heavily. But I'll only feature plugins that I use, like, and recommend.
If you like my music, this series will give you a taste of what goes into making my songs. If you're an experienced producer or engineer, I hope you appreciate taking a look at which tools a fellow producer relies on. And if you're relatively new to production, you may be looking for some of your very first plugins to purchase above and beyond the stock plugins in your DAW.
Let's get the boring one out of the way first. As a metering plugin, Insight doesn't actually do anything to the sound of your song. But it does give a lot of relevant information that can help you make your song sound better.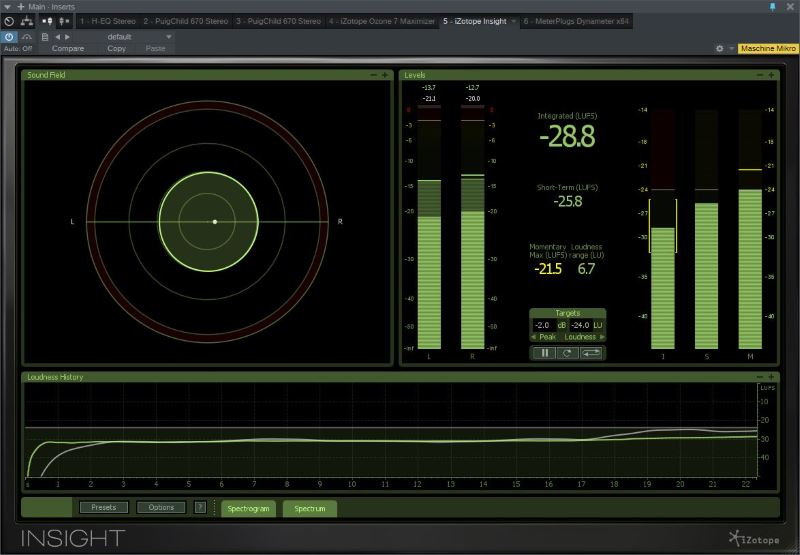 Here is Insight loaded with one if its broadcast presets
Insight was developed with broadcasters in mind: content creators and TV stations need to dial in their volumes to sound sufficiently loud, but quiet enough to not incur fines from their governments. Yet Insight's wealth of customizable mini displays is useful to mixing engineers as well, and especially to mastering engineers (and those who dare to master at home, like myself at present).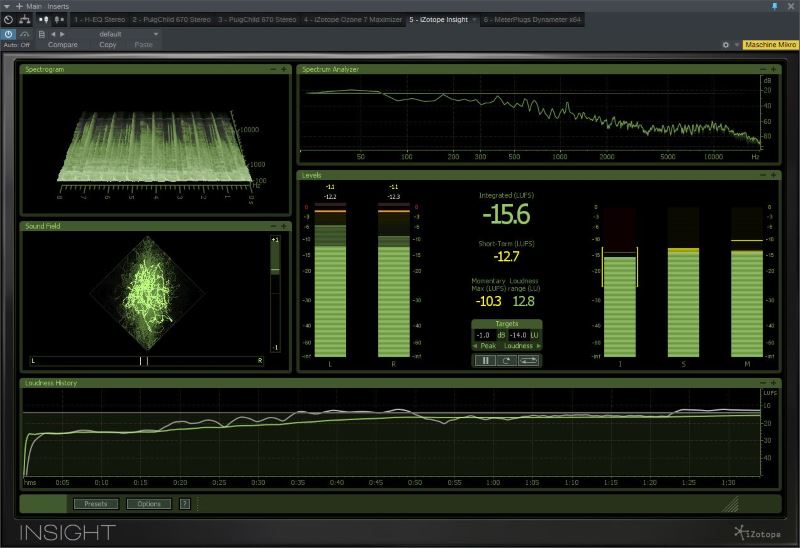 Here is Insight loaded with my custom arrangement of displays and levels
I like being able to see at a glance if the left and right sides of a mix are balanced, and if the general frequency spectrum is balanced. More importantly, Insight's displays help me gauge a song's dynamic range and identify if there are any phase issues with the mix.
But most importantly of all, Insight helps me dial in the exact loudness I want: -14.0 LUFS integrated. Any louder and my song loses quality, only to be turned down by most playback services anyway; any quieter and I lose bite to most listeners compared to other songs. If you don't know what LUFS are or want to know how I arrived at this target, check out my article covering the Loudness War and dynamic range, and my article explaining LUFS and loudness targeting for mastering.
Metering plugins aren't the most exciting. But Insight is a new tool in my arsenal, and for the first time, finding the appropriate loudness for a track is no longer guesswork. It's changed the way I finalize songs.
There are other metering plugins out there that display loudness, but few have the the vitally important integrated LUFS measurement, and few are as full-featured and well made as Insight. The price is pretty steep at $500, but it also comes in a beastly bundle with many amazing iZotope plugins for the same price of $500 (somehow), and less during sales, of course.
I have sixteen delay plugins. I just counted. It takes something pretty special for me to even use a delay plugin regularly, much less purchase a new one. Fortunately, EchoBoy Jr is that special. I also love its big brother, Echo Boy, which I've heard is a "desert island" plugin for more than a few producers. But the newer EchoBoy Jr has a simpler interface, more knobs to shape the character of the sound, and I find it easier to quickly arrive at a sound that I love. Not to mention, it's half the price.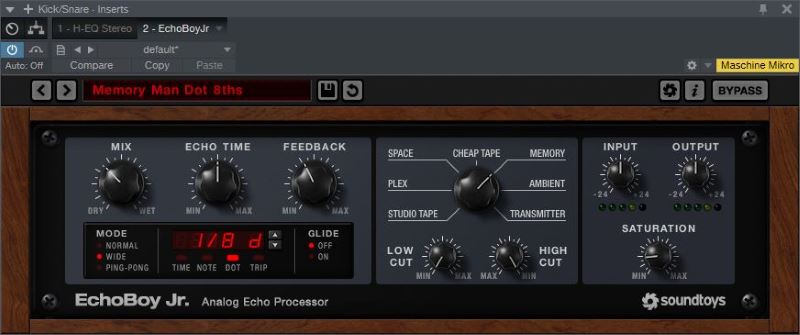 Here is one of the stock presets in EchoBoy Jr
In my opinion, the ability to filter out the highs and lows of both delay and reverb is critical to get the effected sound to blend with the mix. I love my delays and reverbs to sound very mid-rangy, and it's much simpler when those controls are built into the interface.
Ping-pong is always an interesting sound, and I love using it in my music. Wide is another style of delay that you don't see or hear very often, but it adds a nice character that I enjoy.
The dial for delay-style according to technology is super useful for quickly changing the delayed sound into something truly unique. And the saturation knob adds a little flavor and a hint of bite that makes up the final polish.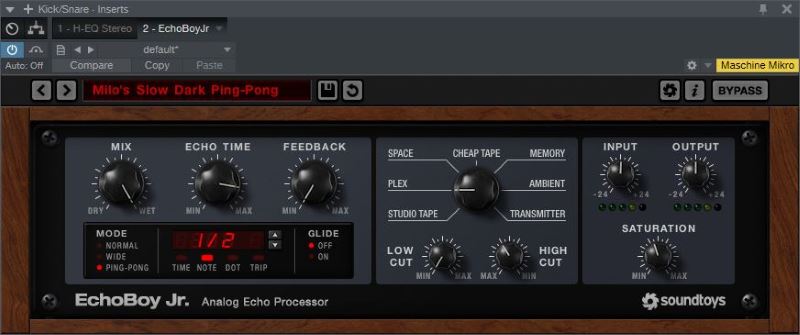 Here is a preset I made, and it's heard at least once in over half of my songs
If you didn't know, I'm a pretty big fan of Soundtoys as a company. They tend to stick to the simpler core effects of audio, instead of branching out in bizarre ways like Adaptiverb or Relayer. But the company consistently packages those core effects into simple interfaces that still provide depth to control, effects are combined in creative ways, and they just sound really, really good.
3. XLN Audio RC-20 Retro Color
I used to record towards perfection. Every piano had to sound clean and pristine, in perfect condition and perfect tune. Every drum had to be crisp. Every instrument clear. But at some point in my journey, that just got boring. Every virtual piano sounds perfect. Every drum sounds bombastic, with a huge smile-EQ. It all starts to sound the same, and it just doesn't jive with the crunchy, thick sounds I love in music.
So I started adding color to my instruments. Personally, I don't get a lot of vibe out of "vintage compressors", and especially not from "vintage EQs". What else is there? Sometimes I turn to tape emulation, I regularly add saturation, and I often add quality analog-style distortion to many layers in my mixes.
But RC-20 Retro Color is something of a new secret weapon for me. All it does is add dirt and grime, but it does it in such a lovely way, with heaps of knobs you can twist to achieve a ton of different flavors.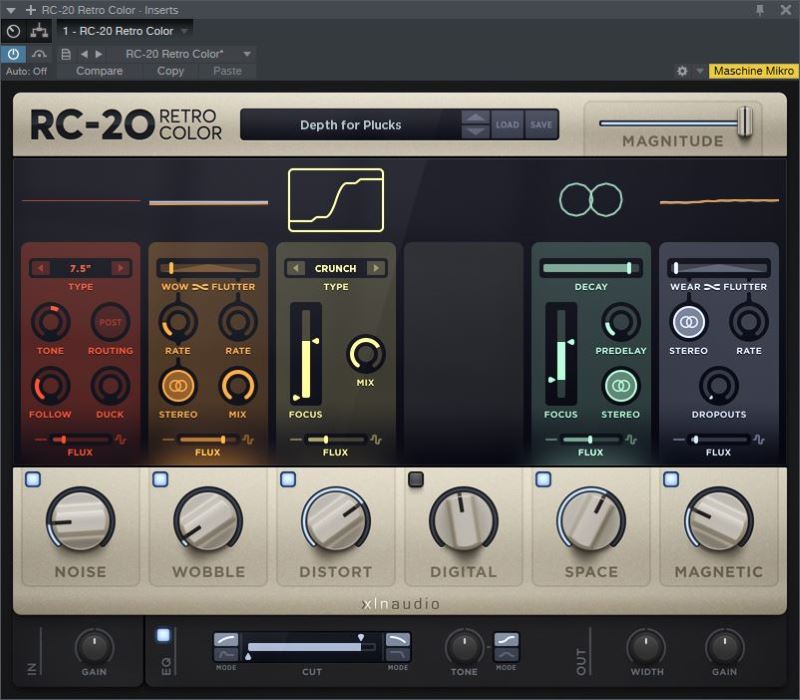 Here is one of the stock presets
There are separate modules for six different types of effects. I generally use Wobble, Digital, and Magentic pretty sparingly. But I'm always surprised by how Noise, Distort, and Space can radically alter a sound. All the right controls are there: for example, adding noise without controls for Follow and Duck is downright messy, but with them, I can make smooth sounds with character. The high-pass and low-pass settings are valuable in their own for any type of lo-fi effect, and the Magnitude slider helps you dial in exactly how much distress your sound requires to shine.
Whenever I have an instrument that is just sounding too bland, I reach for either distortion or Retro Color. And it seems to have found a permanent use for me in processing my drums in parallel, adding thickness and texture in almost all of my songs, from the grungiest to the cleanest mix.
Wrapping Up
As always, thanks for being my reader. If you like using these plugins too, I'd love to hear how you use them. And if you have a few favorite plugins of your own that you can't live without, please share them in the comments below. I read every single one.