Introduction
If you have worked extensively with unedited vocals, whether your own or by recording someone else's, you've probably had at least one track full of uncomfortable sibilance. You know the sound I'm talking about: powerful "S" sounds that make your head hurt. In unfortunate situations, it can happen with other consonants too, including "T" sounds and occasionally even "F" sounds.
Sibilance is often caused by how close the singer is to the microphone. Sometimes backing off just a little is all you need. But some people are just sibilant singers, and this becomes a real problem.
Why I Hate De-Esser Plugins
There are plugins specifically designed to tame sibilance in vocal tracks. Most all plugin developers that offer a broad selection of basic tools include a de-esser. They all work on the same principle: one narrow-band compressor that you can move up or down to find the right frequency. You can also adjust the threshold, in order for it to trim sibilance more or less aggressively, and a Q setting, in order to dial in how wide or narrow the area the narrow-band compressor is affecting.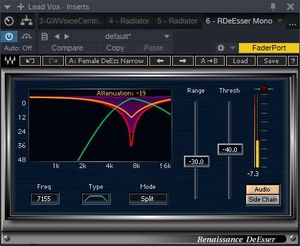 Example of a de-esser plugin
You can actually accomplish the same thing without a dedicated de-esser plugin using any flexible narrow-band compressor, such as a single band in Izotope's Ozone Dynamic EQ. It's just less streamlined to use in this scenario.
The trouble is that no matter how fancy the plugin brand behind the de-esser, they never are effective enough until they make the singer sound like he or she has a lisp. The result is pretty gross, and it's usually even more noticeable than the sibilance was to begin with. To my ears, de-essers ineffective until they're unusable.
De-Essing the Old Fashioned Way
Fortunately, there's a solution that is very effective and sounds completely invisible. Unfortunately, it takes manual editing instead of applying a set-and-forget plugin. But follow me on the steps below, and you'll see that it's really not that complicated, and it doesn't even take very long to do.
Here is a sample vocal phrase from a project of mine with a singer who couldn't reign in her sibilance:

That may not mean a lot to you visually if you haven't studied the shape of waveforms. So let's break down what's happening here:

The singer takes a breath at the beginning of the phrase
You can see a loud vowel here, part of a short word
Here's a word with a long vowel that ends in a pretty nasty "S" sound
And here's a word that begins with a loud "S" sound and ends in a very soft, restrained "T" sound
Now, let's identify the problem areas.

There's a "T" sound that's pretty loud and abrasive - we need to fix that
This "S" sound is out of control
And this "S" sound is worse
In order to fix it, we need to zoom way in, in order to see what we're dealing with. The image below is a closeup of the third instance of sibilance in the image above.

If you remember from my article on visually identifying waveforms, the first and third shapes in the close-up just above have peaks and troughs that are further apart, which means they are lower frequency. These are the vowels before and after the "S". And we can tell the center waveform is high frequency because it's so dense. This is the "S" sound that we need to fix.
The first step is to separate that "S" sound into its own clip. In Studio One, I select the area of the "S" with my mouse and use the Split hotkey (Alt+X).

Next, we lower the volume of that selected clip. In Studio One, I find the little square box at the top middle of the clip and drag it downward.

How much, you ask? Go by ear until it sounds right. But for a rough guideline, any sibilance that is bothersome enough to be fixed probably needs to be attenuated by at least 3 dB. Aggressive sibilance sometimes needs more than 8 dB of attenuation. Use your ears as your guide until the phrase sounds natural to you.
If your DAW does support clip-based volume, you can use standard volume automation on the entire track. However, for best results, you want the volume change to occur before your plugin stack, not after.
You may or may not need to crossfade the edges of the separated clips with each other. I usually don't unless I hear a problem. I learned a long time ago that editing is only 20% as time-consuming and unbearable when you edit only the problems you can hear, compared with editing every aspect to perfection.
Here's what it looks like when you apply crossfades. To do this in Studio One, select each region you want to fade and use the Create Crossfades hotkey (X).

And that's all there is to it. You cut the volume of the "S" sound down without altering its brightness or clarity, and you left the adjacent vowel sounds completely unchanged. Better than any de-esser plugin could ever do.
Here is what the entire phrase looks like after I fixed all three sibilance issues:
In order to get things sounding right, I had to cut the "T" sound at the beginning of the phrase by 5 dB, the "S' sound in the middle of the phrase by 6.5 dB, and the "S" sound at the end of the phrase by 7.5 dB. But again, use your ears to determine how much to attenuate.
Conclusion
This seems like a lot, especially when you realize you have to do this for all sibilant sounds in the entire song. But it goes a lot faster than you'd expect when you learn how to visually identify the sibilance you're after, and you memorize your DAW's hotkeys for splitting clips by selection and for creating crossfades. If a song has only one vocal layer, it doesn't take that long at all to de-ess the entire song by hand.
However, if your very sibilant singer recorded group vocals for each layer of multiple layers of harmony, and each vocal take needs to be de-essed ... you have my sympathy.
If you have a secret de-essing plugin that you feel makes this method obsolete, please share in the comments below. Also, if there are any other aspects of audio editing you'd like me to spread some light on, just let me know.