Introduction
It's time for a second round of covering the plugins Milo uses all the time and is currently excited about. Why waste more time? Let's jump in:
Valhalla DSP is the vision of plugin designer Sean Costello. It's a tiny company that specializes in great sounding reverbs and other effects similar to reverb. Its pricing has no room for frills: all plugins cost the same, all plugins are cheap, there are no bundles, there are never sales, and there are no promotional offers to get famous people using the plugins. If you want to use it, you pay for it, and you pay the same price as everyone else.
VintageVerb is an incredible sounding reverb with a lot of tricks up its sleeve. But even better, it just doesn't have that weird slappy sound that so many reverb units and plugins have, causing them to sound like no room ever. If you're looking for reverb that sounds creamy and lush and real, I highly recommend Vintage Verb.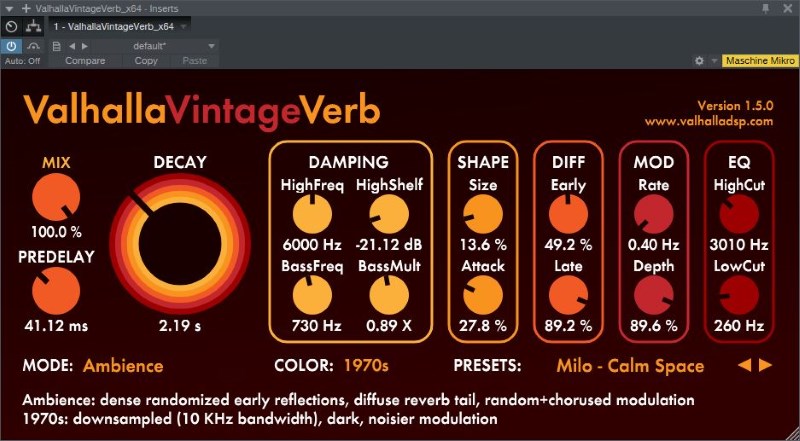 VintageVerb set to 70's style giving a warm, roomy sound
I also own Valhalla Room, and I like it and use it as well. It has a certain cleanness to it that translates really well for recreating the authenticity of a large space. But VintageVerb's decade selector is a really neat way to add character and vibe to reverb, and its design makes it fit that much better into the popular styles of music we've all heard for decades.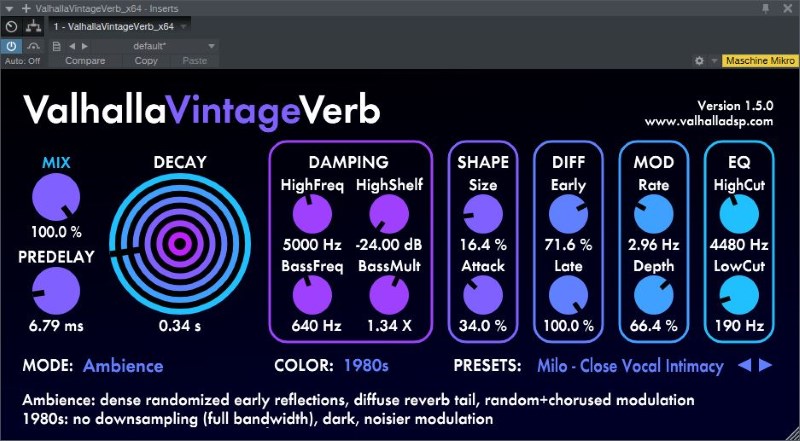 VintageVerb set to 80's style, giving presence to the vocal
Some people really don't like Valhalla DSP's interface style. But the truth of it is that having a killer graphical user interface that looks exactly like a famous hardware piece or has spinning tape wheels or glowing tubes doesn't help your music sound better. VintageVerb looks like it was crafted out of construction paper. I'm sure Trey Parker and Matt Stone would be proud. But it does the job and sounds great, and I can't fault it for that.
2. Waves Greg Wells VoiceCentric
I know, it's horrifying. I use one of those "one-knob" amazingifyer plugins branded after a celebrity.
But here's the deal: there's a lot going on inside this plugin, and I really like the sound I get out of it. And more importantly, it helps me achieve the sound I'm looking for quickly, which is really important when I'm just trying to establish vibe to better lay down vocals before I lose an idea, or rushing a mix out the door in order to publish it quickly.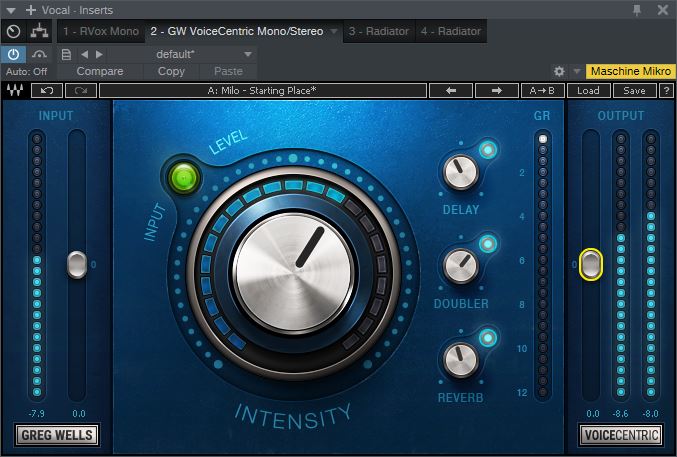 This is pretty close to my starting place, tweaked slightly for one of my songs
VoiceCentric is designed to be the centerpiece of vocal mixing, and to help you get results quickly. The big knob in the middle helps you dial in how much "effect" you want the plugin to have, from less EQ sculpting and less compression to a lot of both. If your compression is out of whack, you can trim the input gain to get things balanced, and then adjust the output gain to keep your plugin volume-neutral.
I really like the built-in effects. The reverb is nice and dark, and good at getting out of the way of the sound. It's even detuned a little, to better help it separate from the primary sound. The delay is dark and spacious too. And the doubling adds a certain strength and weight to a vocal that I just couldn't find in other plugins. My voice sounds pretty reedy without it. The mix of these three effect knobs varies by song, but throwing on my basic preset gets me close, and fine-tuning the effects for the song gets me even closer.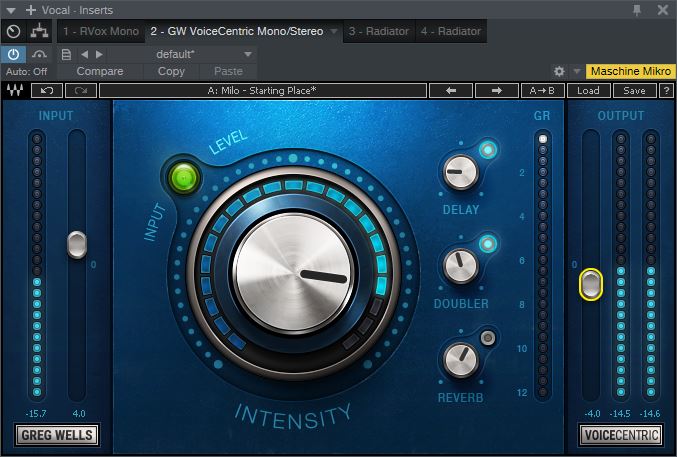 Here I'm aiming for more vocal crispness and a dryer sound
Because there are no adjustable parameters for the reverb and delay, I don't view them as a replacement for a proper reverb or delay bus, but I also don't view them as a nuisance to shut off. I keep a little in the mix to give the vocal space and strength and vibe. But I still rely on proper effects buses to bring out the full depth of sound, often using VintageVerb and EchoBoy Jr.
In full disclosure, I own a lot more Waves plugins than I use. And I don't think I'd ever buy one of their products if it wasn't part of some tremendous sale. But this is a tool I bought (on sale) and get a lot of mileage out of. And if I didn't have it, I'd go out and buy it today.
I was confused at first too, but Wavesfactory is a different company than Waves that just happens to have a similar name. It focuses on instruments and has just a few audio processing plugins. I don't have much from Wavesfactory, but what I do have, I love.
Trackspacer is designed to be your secret weapon in getting your mix to sit just right. What does it do? Simply put, it helps you eliminate masking without mucking up the integrity of your instrument's frequency balance or your mix balance too much.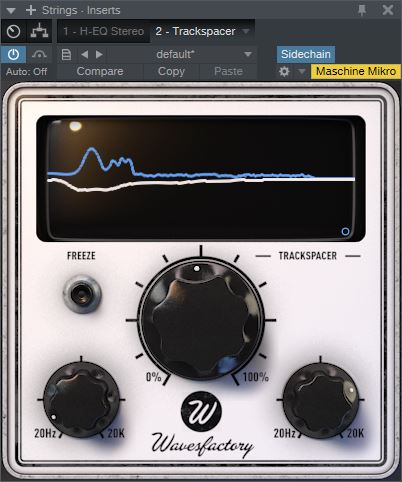 When used gently, you don't even hear it working - you just hear the extra space
When you have two instruments that are masking each other, say voice and guitar, decide which you consider dominant. For me, this would be voice. If the guitar needs to be bright and rich in order to sound right, but then obscures the intelligibility of the voice with its bright and rich tone, place Trackspacer on the guitar (or guitar bus) and sidechain the vocal channel to it.
Trackspacer reads the spectrum of the sidechain input and applies the inverse of it with a 32-band equalizer in real-time. In our example, if the body and clarity and sibilance of the voice is getting obscured by the guitar, those frequency ranges present in the voice get cut from the guitar only while the voice is present. And the instant the singer's phrase is over, the guitar sounds full range again. It's so quick that you don't realize something was missing.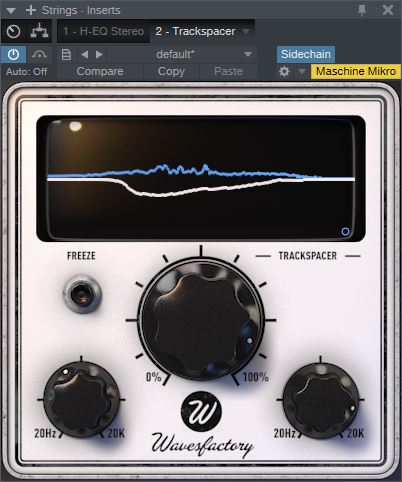 Trackspacer is a great tool for creating space in the mids and upper bass
Trackspacer comes with dials to adjust the aggressiveness of the EQ ducking, an input low-pass, and an input high-pass in order to set the scope of frequencies the plugin operates in. The result is a neat little tool that, when dialed appropriately, unmasks offending instruments and creates space in the mix pretty invisibly. It's processor-intensive, so I generally don't use it until I'm past production and into the mixing phase, when I can lean heavily on freezing tracks. But ever since I bought it, Trackspacer invariably finds a place in my mixes, solving a little issue here and creating a little breathing room there.
Wrapping Up
There you have it: another three months gone by and another three of my favorite plugins that I use regularly. If you want more, you'll probably want to check out my previous round-up here. And also, I write about one of my favorite instruments here.
I've shared my part, but I certainly haven't tried even a tenth of the plugins on the market. Do you have any killer plugins you feel I should know about? Share about them in the comments below.