I'm something of a nerd for audio software made with a little creativity and a little love. Hopefully you caught my previous post sharing three effects plugins that I rely on heavily. Today, I'll be giving you a glimpse at one of my favorite instruments: Addictive Keys by XLN Audio.
Yeah, I know. It's just another virtual piano plugin. Hooray. But Addictive Keys is so much more than that. I'd be surprised if any songs I've made since I bought it don't use it in some way. Many of my songs have seven or more layers of it. And a recent track I made for a client used sixteen layers of Addictive Keys. Not all for piano sounds, of course. I'll share more below.
But First, the Basics
Addictive Keys offers four different piano styles: Studio Grand, Modern Upright, Electric Grand, and Mark One. You can purchase any one of these individually, or pay more for a larger package including more pianos. I started small and worked my way up to owning all four.
Each instrument comes with three pages of stock-made presets, starting with basic sounds ranging to the more creative patches.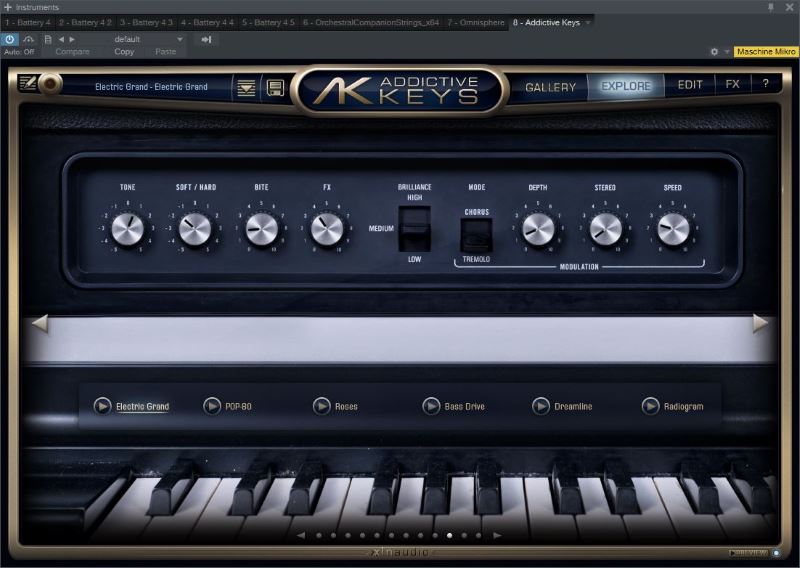 The first page of Electric Grand presets offers sounds you might expect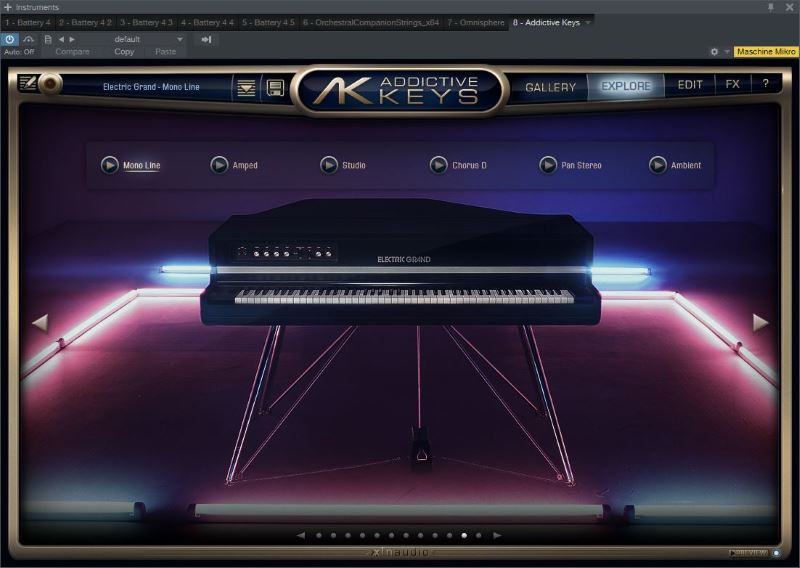 The second page of presets for Electric Grand gets a little more creative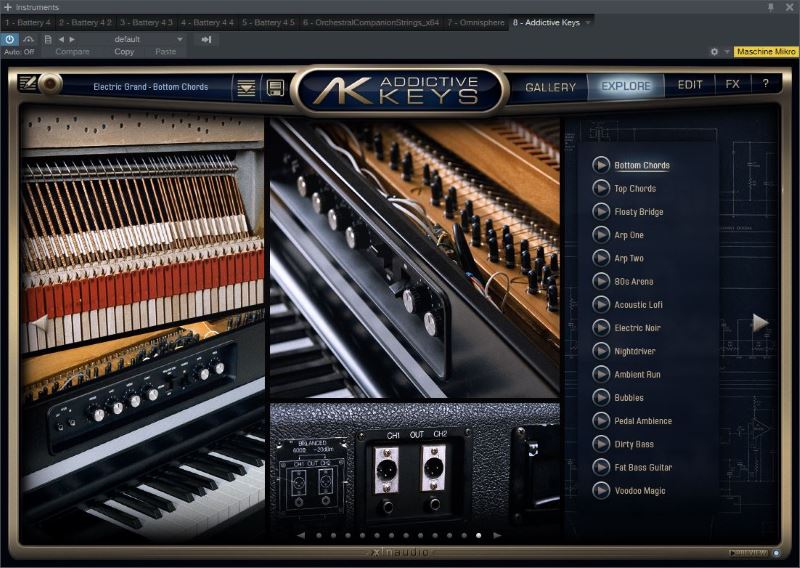 And the third page of presets for Electric Grand is downright adventurous
Things get interesting when the presets delve more deeply into the effects package. Even just from the stock presets, you can hear a wealth of different sounds based on those templates, from creamy crunch to delicate side-chain pumping to the truly bizarre. When loaded with effects, the pianos are rich with character while still sounding high-fidelity. This, in my opinion, is what Addictive Keys truly excels at.
The Sounds
I wouldn't say that the standard, piano-like patches for Studio Grand and Modern Upright sound the most stunning of all virtual pianos I've heard. Some by Native Instruments glisten and sound larger than life. But unlike those Native Instruments pianos, I find the Addictive Keys pianos far more functional in a mix: within the proper context, they sound more real, they fit better in the mix, and they lack the phasey quality many Native Instruments pianos get when they're not panned as wide as the sky.
Studio Grand and Modern Upright sound as expected. They get you clean, bold piano sounds or vintage, distressed piano sounds. But XLN Audio ups the game with Mark One, one of the best sounding electric piano emulations I've played, and by far the most usable in my experience. And Electric Grand offers whole new pallets of piano-like sounds that I find just fascinating and include in many of my songs.
One nice aspect is that you can select from different microphones and input sources at different locations. Especially with the electric pianos, playing with arrangements of input sources gets really fun.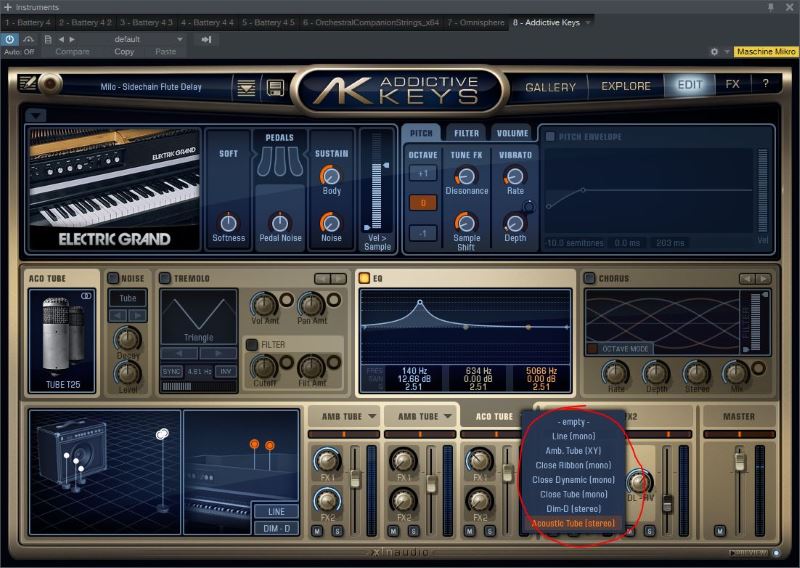 A list of available sound sources and inputs
The Effects
Addictive Keys ships with quality base sounds, but the effects package is where it shines. I know, I know, these are normally the parts of virtual instruments to gloss over. I usually do, when I have more variety of better sounding plugins in my DAW that I'm already familiar with. But what XLN Audio does with effects is something special.
First, they have a layer of pitch and filter effects on the root instrument. Dissonance and vibrato add character to the instrument that you don't get in a lot of virtual pianos that just sound too clean or too flat. You can do a lot of wacky stuff with volume envelopes and filter envelopes too.
And one particular knob I've never found in a virtual instrument before: "Sample Shift" pitches the the samples up or down by semitones, which is then offset by using midi to transpose notes in the opposite direction, For example, setting this knob to -10 semitones and playing C3 would actually play D2 pitch-shifted up 10 semitones to sound like C3, which results in a lovely, altered, otherworldy piano with an unnatural but fascinating overtone response. Twisting this one knob brings out fantastic character that I've never heard in another virtual piano.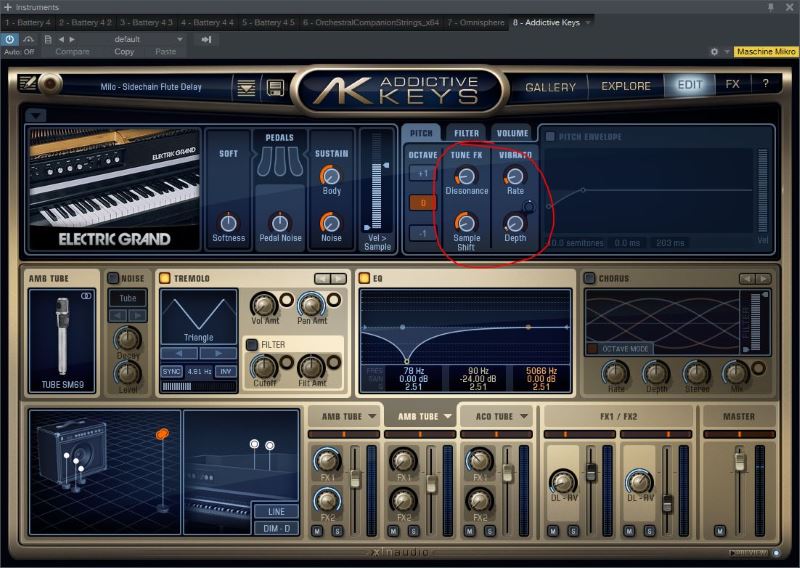 The note effects, including Sample Shift
Second, each of the sound inputs (microphones, etc.) has its own rack of effects for you to EQ, distort, and create separate effects sends from. I love layering different characters of sound on top of each other, and subtle balance tweaks between these layers dramatically alter the resulting sound.
Third, XLN Audio developed something that's a hybrid between reverb and delay that sounds very interesting and quite rich. It's easy to dial in a fresh effects blend, especially compared to the limited controls most delay and reverb plugins offer.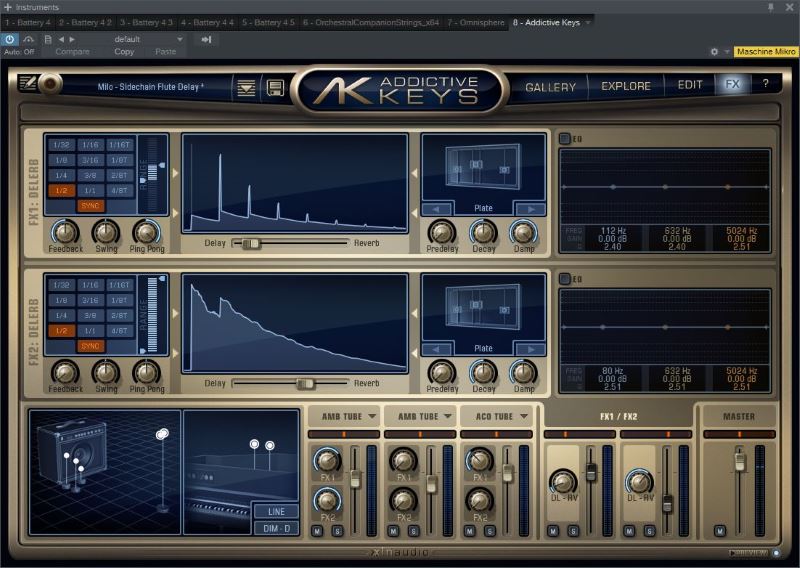 Addictive Keys' spacial effects page, with a unique fader ranging from delay to reverb
And fourth, the master channel inside Addictive Keys comes with its own little suite of effects for altering the sound. Tremolo is very useful here, the distortion is rich and textured, the addition of noise adds realistic grit to the sound, and filtering down the frequency is great for giving the instrument even more of a lo-fi vibe.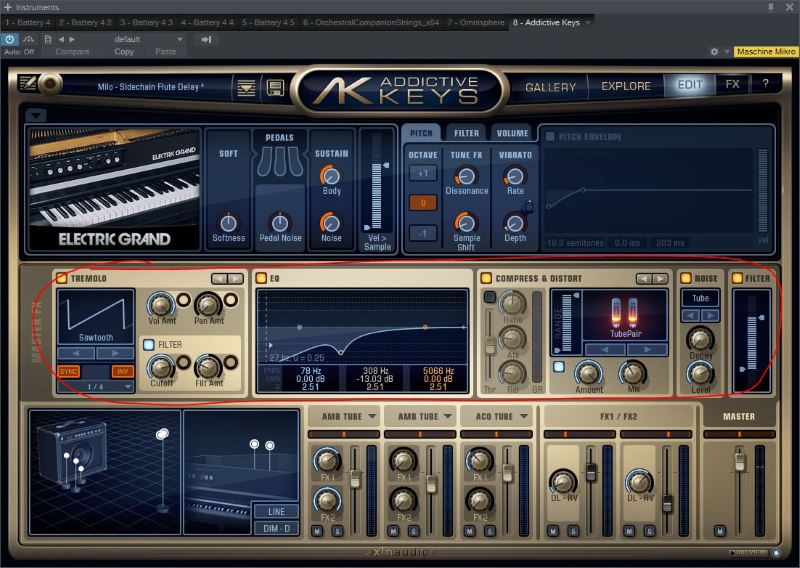 Just some of the effects options on the master channel
Why I Love It
It's just so unique. I thought it was all about pianos, but now I'm making patches that sound like distortion leads, freaky flutes, synth leads, fuzzy side-chain cream, smooth pads, and overtone layers for sub bass synths, all in an instrument that brands itself as so much less. It's really something of a secret weapon for me. At least until I publish this blog.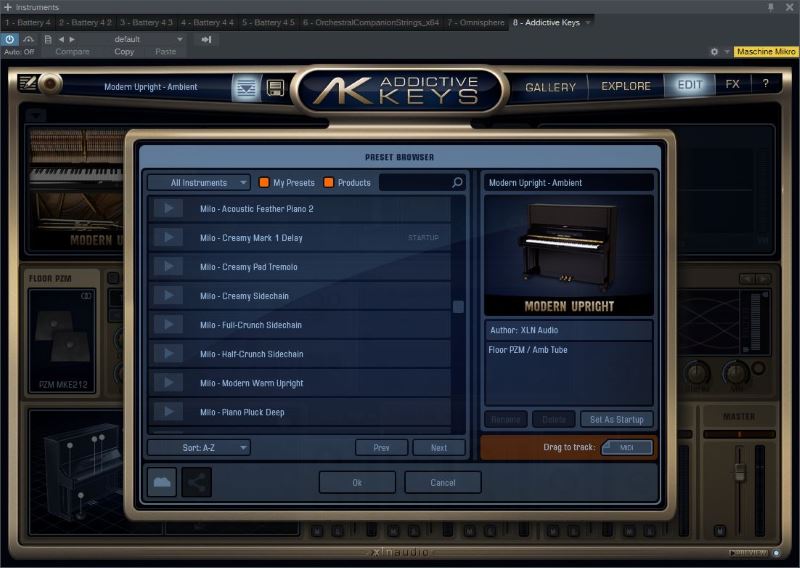 These are just a few of the presets I've made in Addictive Keys
I can't praise XLN Audio enough for creating such a unique instrument that's so easy to manipulate into fresh sounds that are really inspiring to play. Now that you know my secret weapon, I'm sure I'll start hearing similar sounds from my fans. And I can't wait.