Introduction
One of the most amazing aspects of music production is just how fun it is to start throwing down layer after layer, adding new instruments and melodies and samples, building up a song until it blooms into life. It's one of the reasons production is so compelling: it's entertaining like a great video game, it's engaging like television never can be, you are building real skills as you produce, and you have something to show for your work after each production session.
One of the challenges, however, is that while stacking on new instruments and sounds can be great fun, arrangement is not. If you've been producing for even a short length of time, I'm sure you've experienced the exhilaration of packing on layers closely followed by the crash, as you realize you have one giant loop of music that all sounds the same. You hit the brick wall.
How long you stay at the wall is up to you. It could be a few minutes, it could be a few months.
But making arrangements doesn't have to be intimidating. I'm going to show you a tool you can use to remove the roadblocks of arranging and get back to the fun of producing.
What Is a MIDI Skeleton?
A MIDI skeleton is a map for the arrangement of a song. It charts out not only what the song sections are, but which instruments are in the song, and which section each instrument plays in. And where do you get all of this information? You borrow it.
Pick a song that you love and want to emulate. There are probably a lot of reasons you love this song, and I'd be willing to bet that a strong arrangement is a big contributor to its sound, whether you realize it or not. We're going to start taking notes on how the song's arrangement does what it does, so you can learn to use these methods too.
How to Build the Skeleton
Create a brand new, empty session in your DAW. Import the song you want to learn from into the session.
 
Match the session's tempo to the tempo of the song. If your DAW doesn't have beat detection, use an online metronome: I've had good luck using the average across 20 beats using this metronome.
 
Line up the first beat of the song further into your timeline than bar 1. I like to line it up with bar 9, which is especially useful if the song has a longer, arrhythmic intro.
 
Listen to the entirety of the song, adding markers to your session to mark each song section. For example, pop songs virtually always have verses and choruses. And they often have intros, outros, bridges, and interludes too. It gets a little tricky if the song you're learning from doesn't have vocals, but sections like the build and the drop are usually obvious. Feel free to describe sections of instrumental songs as verses and choruses if it seems to fit. Use whatever terminology makes sense to you for describing each section's place in the song.
 
Create a blank MIDI track for each dominant instrument you hear in the song. For example, an electronic pop song probably has vocals, drums, synth bass, synth chords, and a synth pad. It also probably has something special, like a rhythm guitar or mallet percussion or string plucks. Add a blank MIDI track for each major instrument the song contains.
 
For each blank midi track, create empty MIDI regions for each place in the song you can hear the instrument. For example, maybe the synth bass is present in the choruses but not the verses: add a MIDI region without notes to the synth bass track to occupy that track for each chorus, but not for each verse. Continue doing this for all primary instruments. It will take some time.
This process usually takes me about a half hour if I'm being really thorough. Though I can do it in less than fifteen minutes if I'm aiming just for the broader points.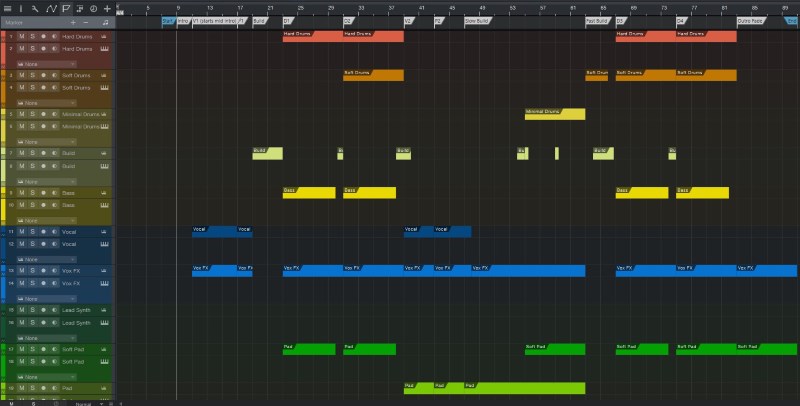 Here's one of my MIDI Skeletons. I tend to make mine thorough.
Finished - Now What?
You now have a map of the song charted out in your DAW, or a "MIDI skeleton". For starters, it's a great teacher.
What can you learn?
I used to wonder what was lacking in my arrangements until I started creating MIDI skeletons. After making maps for several songs I really enjoy, I realized that all of them transitioned from a high-energy pre-chorus to a low-energy chorus to a high-energy drop that sounded reminiscent of the chorus. Yet I was still writing in a medium-energy pre-chorus, high-energy chorus song structure that didn't have a drop. This now feels like such an obvious thing, but I just never noticed it until I did the homework, and my songs took on a dramatically different feel when I started writing in this arrangement. Likewise, there are probably pretty bold differences between your music and the music you love that you haven't yet noticed.
 
Get specific and learn from the little details. Did you know that dropping out the bass or drums at the end of a loud section is a great transitionary tool? Whether you lead into a soft section or another loud section from there, the listener's interest is sustained as the song's energy was broken up and the listener knew a transition was coming. This can be really effective even if the only thing you cut out is the kick drum. Take note of which instruments drop out within a song section and exactly when this happens.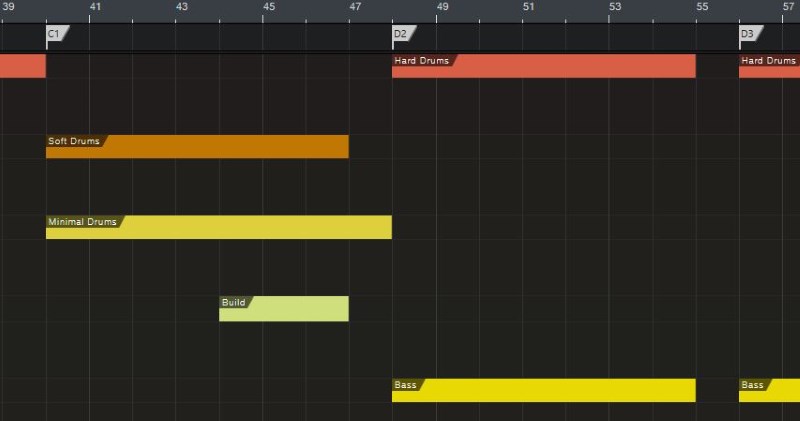 Staggering start/end timing for layers can contribute to killer transitions
Also, take note of what is added over time. What instruments are present in the chorus that aren't in the verse? What instruments make the second verse more special than the first verse, and the second chorus more special than the first chorus? Does the song you love make use of risers or transitionary instruments specifically for ramping up the energy between two song sections?
 
Your MIDI skeletons will likely teach you very different things than mine taught me. After all, we'll be learning from different songs, and often, completely different genres. Let your musical tastes guide you towards which songs you want to break down in this fashion, which will in-turn teach you how to sound more like your own musical tastes. There's no downside.

A study in arranging guitar layers throughout a song
Making Music
While this has been a great teacher, there's more that you can do with a MIDI skeleton than just learn from it. You can use it.
It's best if you save your MIDI skeleton session not as a session, but as a template for future sessions.
 
Open up a new session from a MIDI skeleton template and change the tempo a little or a lot.
 
You already have all the song sections mapped out, and a list of the instruments too. But no audio tracks and no MIDI notes. This makes the perfect place to begin a new session.
 
Is the chorus marked with synth bass? Great. Choose your own bass patch and write your own bass melody for the chorus. You can fly this bass melody over to each chorus in the song that has synth bass in it.
 
Are the drums soft in the verses, absent in the choruses, and super heavy in the drops? Great. Make your own drum parts that follow the same rules, but are your own sounds played in your own patterns.
 
Does the MIDI skeleton have a piano or guitar part as a featured instrument? Write your own piano or guitar part to fit in that place.
You're on the fast-track to making music similar to what you love, borrowing its strong arrangement, primary instrument selection, and transitionary tools.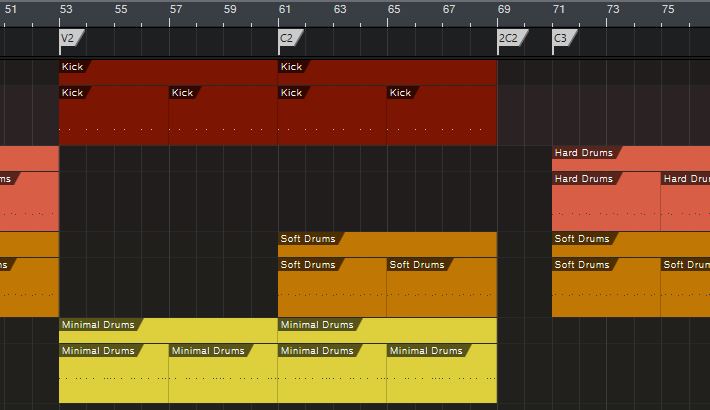 Start creating your own instrument layers according to your MIDI skeleton
But Isn't This Wrong?
If the melodies are yours and the song is your own, no one will be able to tell if you borrowed heavily from the arrangement of another song. Especially if you use a different BPM, your song is in a different key, and you use different chord progressions. After all, copyright violations stem from lyrics and melodies that are borrowed too closely. But you can't copyright an arrangement, or the tools you used to draw attention to a transition. These are just indications of craft shared by all artists.
Had Mozart directly copied melodies from Haydn, or Beethoven from Mozart, it would be plagiarism. Definitely not a line to cross. Yet all three were composers in the same Classical period of music with similar distinctions: melodies were more homophonic than polyphonic, dynamics were used liberally, and orchestras were large and included woodwind sections. All three wrote three-movement symphonies common for the time, with a fast movement, a slow movement, and another fast movement. And all three transitioned (further, for the later composers) to four-movement symphonies, often with an allegro, adagio, minuet, and another allegro. This was not plagiarism: it was just the standard format of music that composers commonly followed, in the same way that rock and pop music for decades have followed the verse>chorus>verse>chorus>bridge>chorus format.
Likewise, you could get in trouble if you aim to paint your own copy of a famous painting you really enjoy. But you're not doing anything wrong if you learn from it, taking note of how the original artist used bold or subtle colors, what type of brush strokes she employed, and perhaps stylistic details like how shadows are portrayed. Any original paintings you make with these techniques are still yours. Art is ripe for learning without doing anything leading to a copyright violation, or even wrong-doing in the inspiring artist's mind.
Changing How You Work
What you do with your MIDI skeletons and how many of them you make is up to you.
My friend has well over 100 MIDI skeletons nested in folders and subfolders arranged by genre and by aspects of the track, such as long-build and short-build songs, double-drop and single-drop songs, long-intro and short-intro songs, etc. For each new song, he picks one based on his mood and jumps in. All the hard decisions for arrangement are already made and he's free to just produce. If you produce in this style, it may be worth building a super-loop in the place of the chorus or the drop. You already know each place in the song it belongs, so copy and paste as you need to. And the MIDI skeleton template tells you to deviate from your super-loop as you build out the verses, etc. It's a great system.
Personally, I've only made about 15 MIDI skeletons, though I did make them extremely specific and detailed. Along the way, I learned a lot about how different instruments interact with each other in the same song section in addition to learning which song sections in which order speak powerfully to me, and which instruments seem to work in each song section. A couple of my songs are built on these MIDI skeletons of other songs, though I bet even the artists themselves wouldn't recognize them if they heard them.
However, I stopped making MIDI skeletons, and I've largely stopped using the small library that I created as session templates. Why? Because I no longer feel my songs suffer from poor arrangements. I spent enough time studying the big picture and the subtle techniques in making those MIDI skeletons that I already know what to do for my own songs. I don't feel stuck in super-loops for long periods of time anymore. And I like the freedom of being able to determine a song's structure on my own, based on what I feel it needs. That said, I will probably make more MIDI skeletons in the future when there's some new technique or style I want to study and emulate.
Either approach is good. Create a library of templates that foster creativity through controlled restriction, or just use this as an exercise until arrangements are no longer a problem for you.
Wrapping Up
I'd love to hear what you guys think. Have you made MIDI skeletons before? Did you find them helpful?
What arrangement tricks have you recently learned? Which transition technique do you rely on the most?